Monday, April 23, 2007
Posted by

Rianne Hill Soriano
at 9:51 PM
4 comments:
Links to this post


Friday, April 20, 2007
I and Redel had gimik with my bf Philip around the Ortigas area almost 2 weeks ago. Guess what, he and Francis got in for the
AXN Animazing Mall Challenge Philippines!



Haha! Look at the tan!!! I loooovvve it! Thanks to the warm lighting around! mwahaha!







Support! Support!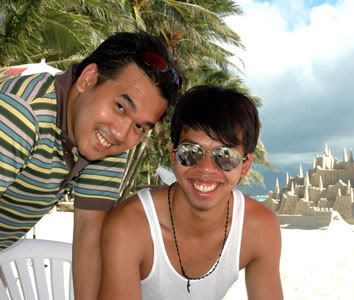 My orgmate Francis and my blockmate Redel
Posted by

Rianne Hill Soriano
at 3:27 PM
No comments:
Links to this post


Monday, April 09, 2007
This is my video production exercise for my directing class way back my college days. It focuses on the concept of time and space. I digitized this from my VHS tape. Sheeeesshhh... it's been a looong time... But hey, I just realized, I think this is not just that ordinary student film, after being able to watch it again after years... I find it amazing... :D
We shot this at the UP Lagoon around 3 to 4 hours only. It was sooo much fun!!!
The days... hehehe! Camera work courtesy of Herbert, Janice, and yours truly using a Sony Digital 8 camera. And yup, I did a cameo here... wehehe!
Hope you enjoy it!
Posted by

Rianne Hill Soriano
at 8:26 PM
4 comments:
Links to this post